Disclosure: This shop has been compensated by Collective Bias, Inc. and its advertiser. All opinions are mine alone. #CollectiveBias #SleepWellWithCopperFit

Hover over the image below to customize your Copper Fit® Replenish Mattress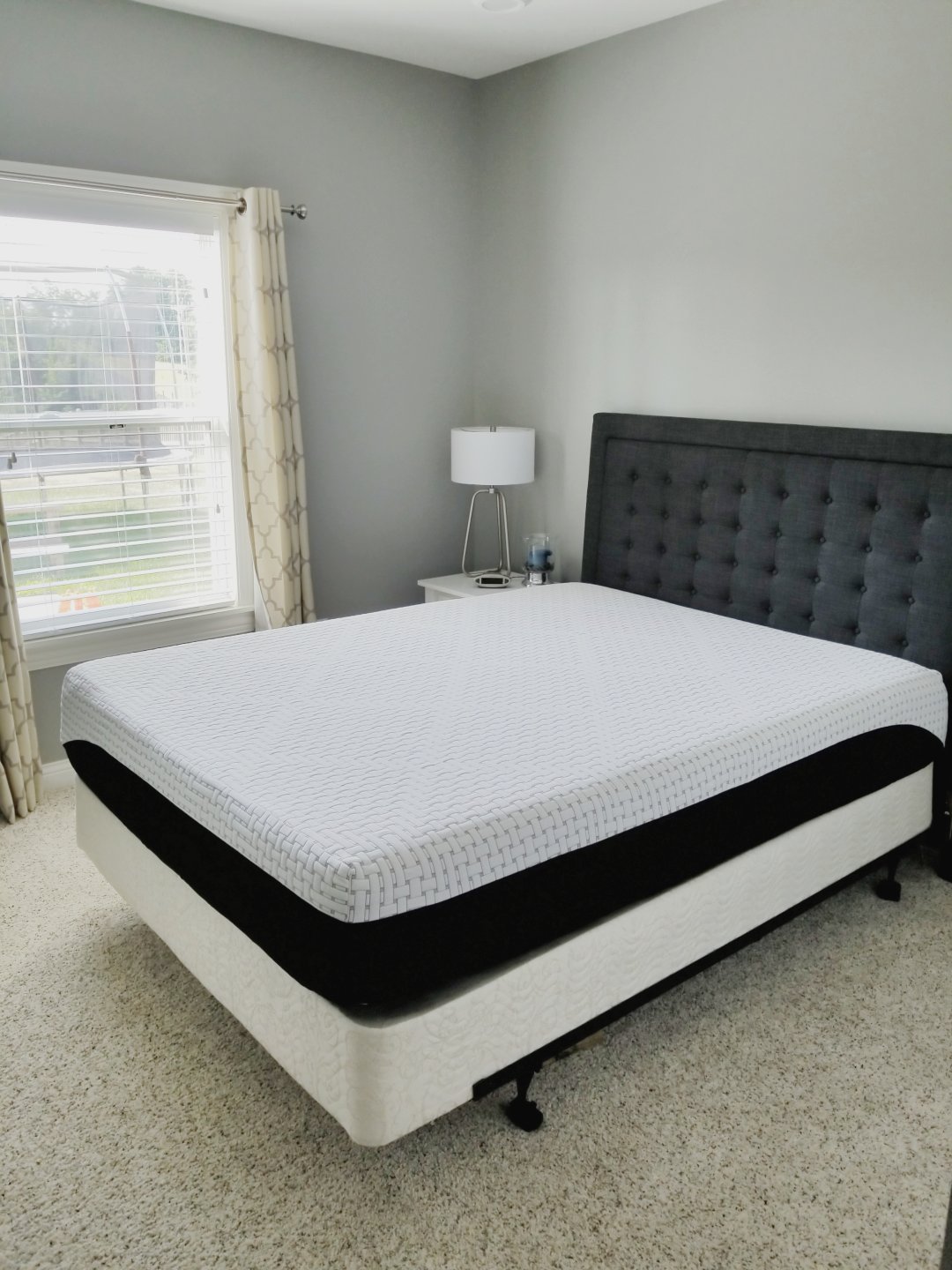 The most important part of staying healthy is getting good sleep. You just cannot function fully without it!  Good health really does start in the bedroom.  Everyday, I have a wellness routine that centers around exercising, eating healthy, nutritious food and being active with my 3 young children.  I live such an active lifestyle while being a stay at home mom, that lack of good sleep can really have a profound effect on my days! If you dont have enough of it, your health begins to spiral downwards.
Sleep is probably the most important thing that we can do for ourselves.  We need it to be solid, comfortable sleep in order to heal our bodies and mind. I weight train several days through the week and off days I typically do cardio or h.i.i.t workouts, so quality sleep is extremely important for my body.   It resets us after a long day, and can certainly affect our moods. By the end of my days, my body is so exhausted that I am ready to collapse into bed! I am definitely short with the kids if I haven't had enough of it!
Staying fueled for an active lifestyle
starts in the bedroom
When I heard that Copper Fit® Replenish mattress was completely designed for deep, rejuvenating sleep, I raised my hand high in the air and shouted "Yes……Yes I need that sooo badly".  Then I heard that you have a 100 night money-back guarantee and that you can even customize the color of your mattress between replenish ivory or replenish black, my ears really perked up.  They told me there's free shipping and that the copper-infused memory foam would cradle my body and provide pressure relief with any of my aches and pains, I then, became pretty skeptical.  To top it off they said it would be 100% compatible with any bed frame, no matter if it was adjustable, slanted or box frame.  I started scratching my head, wondering why it wasn't already on my bed, yet!
The cherry on top came when I found out about the in-depth features of why it was so awesome. To promote airflow and support, (which would aid in recovery of my body), they have an open-cell formula.  Ok ☑  There's even a 5 zone support system that can target different pressure points on your body and targets your head/neck, shoulders, back, hip/lumbar regions and heels.  I Definitely need this after lifting and chasing 3 kids every single day ☑
Zone 1 has enhanced pressure points in the head/neck so that your pillow doesn't have to do all the work.
Zone 2 has extra support for your shoulders(because we all definitely need that)
Zone 3 supports your back, to help with aches & pains.
Zone 4 the hips need both support and pressure relief so you can have the amazing comfort that you need to sleep.
Zone 5 They even thought about your heels.  This zone also provides relief for them.
The mattress is made of 100% polyurethane, made in the USA and CertiPUR-US™ certified & manufactured without chemicals or heavy metals. Phthalate-free and low-VOC. The foam is manufactured using a Variable Pressure Foaming process that is the most environmentally friendly in the industry.  A triple ☑☑☑
At this point I was laying on the ground wondering why no one had picked me up yet and put me on this amazing mattress!
The be all end all decision came when I learned that the Copper Fit® brand helps recovery and performance, but also relieves pain & inflammation and that they truly work hard to keep me at my best during the day, and have found a solution for a full body recovery, while I sleep.  If I'm not mistaken, I believe they might have made this mattress, customized for my life! 
The clouds separated and the sun came out when the mattress arrived at my door!  I couldn't wait to open it up and get it on the bed.  Inside the box, it was rolled up tightly in an air-sealed bag.  Here's a big important tip:  Have it on the bed when you open it from the bag, because it literally expanded and was ready within about a minute or so!  I immediately was impressed to NOT smell an odor like most foam mattresses have after opening up, this is important because I have a crazy strong sense of smell! The moment came to hop on and try it out……..then this happened 8 hours later……….
The next thing I knew I was waking up on one heck of a gorgeous, comfortable mattress, and I felt so refreshed, ready to tackle my the hectic day with the kids.  So I pinched myself to make sure it wasn't all a dream!
I just hope the kids dont decide to sneak in bed with me in the middle of the night!!!
Having an unorganized pantry was causing me stress.  Every time I opened it, it bothered me.  Which, if you're like my household, the door to the pantry gets opened A LOT, everyday!  There was no better time than after the holidays and the start of a new year.  I was going to get it organized, no matter what!  Read on to find out how I organized my pantry in 10 steps.
How I organized my pantry in 10 steps
I assessed the project for quite some time, researching, and shopping, but I didn't want it to look mismatched and like I had just thrown things together.  I wanted it legit, organized like a pro! When I have an organized house, it equals a happy mommy & wife!  We don't have a very large pantry, so the most important thing was to utilize the space we were given.  Here are the steps I took:
Throw out items that havent been used in a LONG time(I saw things I hadn't used for over a year) and decide which containers you can re-use and keep in there. Let me just take a second to talk about my banana hanger that I already had, its flat-out awesome! It folds up when not in use and really does keep bananas fresh, longer! I also had the 3 bottle wine rack, and it is such a space saver, It's one of my favorite items!!!
Remove any extra lids/small cooking appliances/water bottles etc. and see if you can find a great spot elsewhere in your kitchen(or basement if you don't use the item(s) often at all. I took out the small white plastic baskets I had in there because I preferred everything to match and wanted something different.
Write down what sizes of containers/styles would be best for your space and how many you'll need(you may not get it right the first time, but thank goodness for Amazon Prime) so you can order more or a different size and get it in 2 days! I was aware of the wasted space I'd have in the center corners, so I decided lazy susans would utilize that area best, for vitamins, spices & items that we use a lot like the large coconut oil container, & kids lunch containers. I also knew I wanted see thru containers so I could tell how much of each item I had left and when I was getting low on an ingredient. I already owned the wine rack, banana hanger & the magnetic spice holder on the wall. So, Anything that can be stacked, do it!
Get some chalkboard stickers & a chalkboard pen(I used fine point) to label your containers
Hug the UPS man when he delivers your boxes of items
Take everything out of the pantry and wipe the shelves down(this is a great time to install a liner for your shelves if you choose)

This

is the one I have and have had tons of compliments on it.
Pour everything into your washed containers, put smaller cooking items in a basket of their own. I use a basket for baking/cookie decorating items/tuna packets, etc. I also use a separate basket for snacks, and a small rectangle wicker basket solely for my coffee pods.
Put taller containers on the top shelf, items you use most frequently at eye level or the third shelf, and appliances such as the Instant Pot/Slow Cooker/Kitchenaid Mixer down below(shop

here

for my kitchenaid mixer cover, which keeps my mixer free from dust, etc). I use these items weekly and didn't have room anywhere else in the kitchen.  I'm the type of person who can't stand things left out on the counter, it looks cluttered, to me! If things are free from clutter, it actually brings a visual peace to the brain!  I also knew I needed a place to store my onions on one side and fruit on the other, so the wire baskets would stack great on top of one another. (You do have to be aware of what's placed next to fruit/vegetables because of the gases that are emitted from each could ruin one another)I didn't know this for the longest time!
Rearrange things a 2nd/3rd time because you wont get it the way you want it the first time.
Stand back and revel in your clean and organized pantry(threaten the kids if they mess it up)jk…..










Shop the items below:
We recently switched my son to his own room, kicking our 3-year-old daughter out and into the bedroom to share with her big sister.  Our son is a loud sleeper and it was just time for him to have his own "little man cave".  So, I decided I would do a boy's room diy and reveal his new room! You can see what the room used to look like when our youngest daughter was in there here.  Find out at the end where you can get the items found in his room!
Boy's Room DIY
I am in love with how it turned out, and the most important part is that he loves it, also! It came to me, pretty quickly, of how I wanted to design it.  Which is surprising, because I typically obsess about a design before pulling the trigger.  I knew I wanted it to be the same color of walls as the rest of the upstairs, because it's a light neutral grey.  Since the bedroom is pretty small, I didn't want a dark color causing it to look even smaller! So I began the challenge of painting the room with Benjamin Moore: Ozark Shadows lightened by 50%.  Never mind the nail holes that we hadn't gotten filled in yet!
I happened to save a really cool design from Pinterest(so I can't take credit for it myself) which she has an amazing walk-thru tutorial of materials used, spacing, etc. below.  I happily chose my husband to be the contractor for this(haha) of which he did an amazing job and it was actually easier than we thought it was going to be! I also found a cool industrial coat hook that was perfect to hang his robe or a jacket.
After the boards were up and finished, I knew I wanted to create some industrial shelving that would tie in well with the focal wall and compliment it.  This would be a great space to store some of his trucks/tractors/etc. We had the stain leftover from the other boards, so all we had to do was hit the hardware store for the plumbing pipe, fittings & boards. I found this idea also on pinterest that made it easy for us.
Since there was unused space below the shelving, I wanted to utilize it the best I could, so I found these wire baskets that were perfect for him to store his matchbox cars & trucks in.   We already had the bookshelf in there, so we decided it fit the space just fine.  I might put up a large black & white photo next to the shelves if I can sift through the thousands I have of him!!!
Since it is such a small room, I wanted to utilize his closet the best I knew how.  I found a dresser here that fit under the wooden rod, purchased these cloth organizing baskets here, a few small plastic totes to hold legos and what nots. Now, if I can just get him to keep it organized!!!
Shop the room below: